Coaching & Volunteer Certifications
---------------------------------
Updated: December 2, 2022
---------------------------------
The Deadline for Coach Certifications was December 1, 2022.
Here is an overview of the items covered on this jam-packed page.
Click the links to jump to the appropriate section below.
Other Links
Respect in Sport: Parent Course
Respect in Sport: Parent Course
At least one parent per Minor Hockey Family must complete this course. The course costs $12, and the certification does not expire.
There is no Pre-Registration Code for the Parent Course; It is paid for by the family.
Types of Volunteer Roles
SMHA Volunteers filling the roles listed below require an HCR #.
These roles require a valid Criminal Record Check and/or Safety Training and Coaching Certifications via "Hockey University" (See: Certification Requirements)
Head Coach
Assistant Coach
Parent Helper
On-Ice Volunteer
Trainer
Manager
Safety Person
NEW THIS SEASON: Team Treasurer

NEW THIS SEASON

: Team 50/50 Coordinator
Definitions - Taken from the Hockey Nova Scotia Coaching Requirements page.
Parent Helper: Someone who is listed on the official team roster and is used for assistance with the Two Deep Policy in the dressing room before and after games. Parent Helpers require the Respect in Sport program and a Criminal Record Check (with the Vulnerable Sector Check).
On-Ice Volunteer: Someone who only assists on-ice during practices. These people require all the same qualifications as any other coach on the team. It is recommended to list them as an Assistant Coach in case they are required on the bench at some time. Registered players that help with younger age groups on the ice can do so through our On-Ice Helper Policy. These players are not required to be on the team list of the team they help out with. However, they are not permitted on the bench during games.
Trainers: Trainers are not permitted on the ice for practice other than to tend to an injured player. Teams may list more than one (1) trainer although only one (1) trainer is permitted on the bench in any game.
------------------------------------------------------------
SMHA Volunteers in the roles listed below do not require an HCR#. These roles to not require Online Certifications or a Criminal Record Check.
Team Hockey Pool Rep
Fundraising Coordinator
Event Helpers
Team Website Administrators
How to Become a Volunteer or Coach
If your role requires an HCR # due to the need for Criminal Record Check or Online Training, follow these steps to get started:
HCR Login Page



Create a New HCR Account, or recover an Existing HCR account.


If you are the person who typically registers the player(s) in your household, you probably already have an account.

If you're not sure, try the Forgot Password link to see if you have an existing account.



Once logged in, Search For Your Unique HCR# by using your Name and Birthday.



Did you play Minor Hockey in the '90s-'00s, or officiate/coach anytime since then?
Are you entirely new to Minor Hockey?
Certification Requirements
The Coach & Volunteer Requirements Deadline is December 1st, 2022.
Failure to complete requirements will result in your removal from the Official HCR Roster, and it may impact the team's ability to practice and participate in Games & Tournaments.
The following image is a screenshot from the chart on the Hockey Nova Scotia Coaching Requirements page.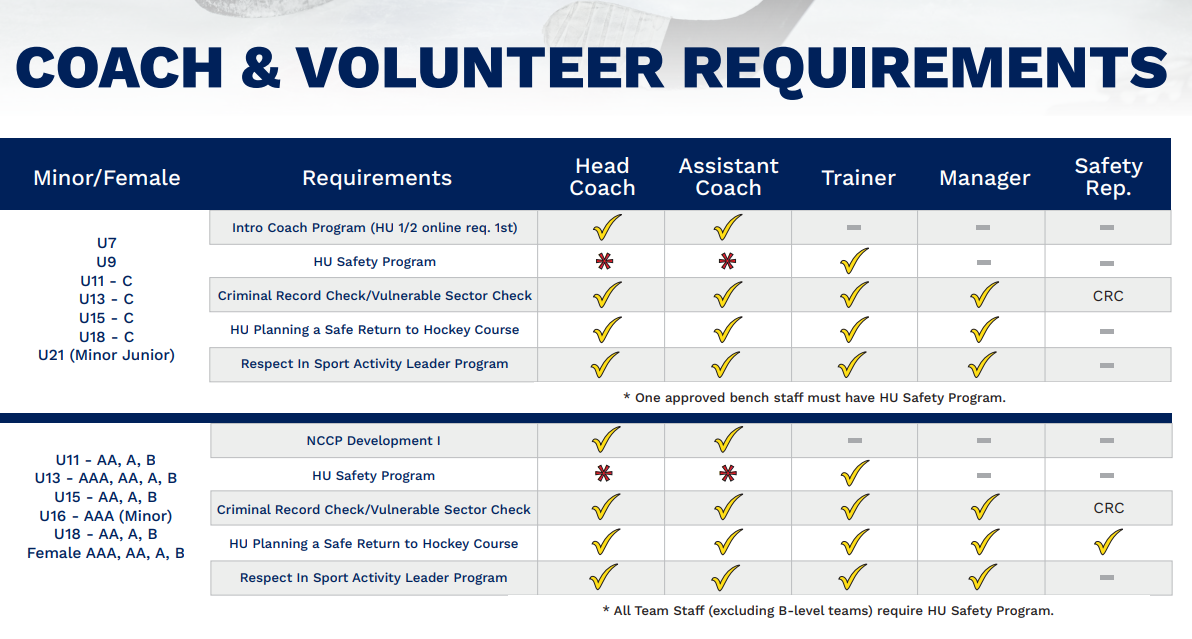 AAA, AA, and A coaches all require HU Safety Program. B & C teams require one approved bench staff to have HU Safety.
All approved team staff are required to have HU Planning a Safe Return Hockey Course
Criminal Record Checks w/ Vulnerable Sector Search
Hockey Nova Scotia - MyBackCheck Link
Select "Sackvillle MHA" from the drop-down list.
The following roles MUST COMPLETE a Criminal Record Check with Vulnerable Sector Search:
Coaches
Managers
Trainers
Safety Reps
Dressing Room Monitors
Treasurers
50/50 Coordinators
Please use the link above so that your result can be linked to your HCR Profile.
If for any reason a volunteer's Criminal Record Check requires fingerprinting, it can take quite a long time to process. Backlogs with the system can also occur near the the December 1st deadline. Please do not delay starting this step.
Normally, within a few days you will receive an email stating the Criminal Record Check is completed.
Another email will follow, containing a .PDF attachment with a Serial Number.

For many people, this 2nd email gets filtered by Junk Mail filters.
Sign into your MyBackCheck account, and add the Serial Number to allow the system to share your results with SMHA.
Instructions for this are laid out on the MyBackCheck page.

If you don't receive an email from Halifax Regional Police, you can call them at 902-490-1329.
If you receive a reply indicating you require fingerprinting, please reach out to Craig Foley at RiskManagement@FlyersHockey.ca. We will provide you with a Fingerprint Request letter, and you will need to bring that to Halifax Police Headquarters at 1975 Gottingen St.
Respect in Sport: Activity Leader Program
Respect in Sport: Activity Leader Program
ALL Coaches, Managers, and Trainers must complete the Respect in Sport: Activity Leader Program.
It will be automatically linked to your HCR Profile.
We offer Coaches, Managers, and Trainers a Pre-Registration Code to have the fee for this course billed to Sackville Minor Hockey Association.
The Pre-Registration Code is: SVMHA-C8X7N9X
Update Dec 1, 2022: New licenses have now been added to the above Pre-Registration Code.
High School Students as On-Ice Helpers
There is a Hockey Nova Scotia On-Ice Helpers Policy that our SMHA Coaches could be capitalizing on. It allows High School Students to help with practices as On-Ice Helpers. The On-Ice Helper must be registered as a player with Hockey NS, and they can be playing at any level be that Recreation, Competitive, High School, Major Midget/Bantam. They also must work under the direction/supervision of a Certified Coach.
This is a fantastic opportunity for our SMHA Coaches at U7, U9, and U11 to have some on-ice assistance, and creates and encourages leadership opportunities for High School Students.
It has recently come to my attention that some Lockview students - and possibly other schools in our area - have a program where students can get School Credits toward a Leadership Course for becoming an On-Ice Helper. I now have three Lockview High students helping with U7-3; they are a great asset on the ice, and they enjoy helping out.
If anyone seeing this message has connections to High School Students who are playing at any level this season and who might want to be on-ice helpers, please encourage them to get involved. Interested High School Students can contact any SMHA Coach directly, or reach out to Craig Foley (RiskManagement@FlyersHockey.ca) and your information can be shared with a Coach who would like some help.
Coaches: please email Craig Foley (RiskManagement@FlyersHockey.ca) with the name(s) of your helper(s).
Thank you everyone
Craig Foley
Director, Risk Management
RiskManagement@FlyersHockey.ca